Clean Up Storm Tree Damage Safely. Trees are not like we are. our wounds will heal. What they do is seal off the damage caused to them.
Clean Up Storm Tree Damage Safely.
If a branch is broken off of a tree, that area will never heal. What happens is that the tree will create a type of boundary around the damaged area where the decay or the disease cannot spread anywhere else.
The best thing that you can do for a tree that has been damaged is to leave it alone. Nature will take over and the coat that has been formed by the ice will behave as a support for the damaged area.
---
TREE ASSESSMENT TO LESSEN THE DAMAGE
There are ways that you can minimize all the damage that can be done by winter storms to your trees and shrubs.
Take an assessment of your landscape. Check all of your plants, shrubs, and trees for damage and evaluate how much snow and ice has accumulated on each.
For the shrubs that are just buried in the snow or ice, let them be. Do nothing with them. Do the same thing for deciduous, leafless trees and most pines that are needle-leaf.
If you have a tree that is bent over pretty badly then what you need to do is this. Grab the trunk or main stem of the tree and shake it gently. It won't get all of the snow off, but it will lighten the burden significantly.
---
Clean Up Storm Tree Damage Safely.
For the lower branches put your hand underneath the branch and bounce it. This should take a major amount of the snow off of it.
For your shrubs, you'll need a broom. Use the end with the bristles and from underneath the middle limbs, bounce them.
You can also use the broom bristles to gently sweep some of the snow off of the limbs and shrubs if it's powdery snow.
---
KNOW BEFORE YOU ACT
When you walk outside after a winter storm has blown through, it can be completely overwhelming. All of the damage to your landscaping and all of the mess that you have to clean u.
Some of the trees in your yard may need to be removed. There are two reasons for this. Either the tree is damaged so much that it cannot be saved, or the tree is now unsafe and can potentially fall. Either way, if it's a large tree then you need to call in a professional to remove it.
Small trees you should be able to handle removing yourself.
For the trees that can be saved, you will need to know what repairs have to be made and you'll need to know how to make them.
If you need to call in a professional arborist then make sure that you get more than one opinion. This way you ensure that you aren't being charged too much and you have more than one opinion on what needs to be done to repair your trees.
Before you decide to remove or even trim your trees that are damaged from a winter storm, there are some words of wisdom from experts that you should know.
---
SAFETY
Make sure that you are completely aware of the exact placement of dangerous overhanging branches and of all power lines.
If you see tree branches hanging too low near power lines then you need to alert your power company immediately. Let them handle the job, it's what they do.
Look around at the trees near your home. Are there any branches that seem to be damaged that can fall onto your roof? Do you have any trees or branches that have fallen onto your house?
Before doing anything about those trees or branches, know what you are capable of doing in a safe manner.
An entire tree that has fallen on your home is best handled by a pro tree service. Branches and limbs you may be able to take care of on your own.
Y9u need to consider that there is probably snow and ice still on your roof and it is going to be extremely slippery.
We strongly advise that any clean-up work that has to be done involving big trees or work that is not done on the ground, be left to the experts.
They have the equipment, the experience, and the knowledge to take care of all of it safely.
---
PATIENCE IS A MUST
If there is a safety issue that makes it to where things need to be done as soon as possible. Then do what is safe for you to do ONLY and if needed call in an expert.
Anything that is not a safety hazard, leave for later. Wait until winter is over and all the snow and ice have melted. This way things aren't slippery and there is less of a chance of you being injured.
We suggest waiting until the beginning of the spring to start the clean-up if you can. You need to figure out if your insurance covers clean-up from winter storm damage.
Most will cover some of the cost of your tree removal but only if there was some structural damage to your home.
It needs to be decided if a tree needs to be removed or just that it needs to be correctly pruned so0 it can recover. If you are unsure then be patient and wait.
Prune the damaged branches and then just wait. Most trees will recover if given the time. Time will tell. If the tree does indeed need to be cut down, it can be done at a later date.
---
Please be careful when hiring someone. When disaster hits you will have so-called professionals coming in from other states trying to make some quick cash.
Don't think that this can't happen to you. After two hurricanes this year here in Louisiana, I have seen companies come in from as far away as California and New York.
Some of these companies were charging as much as six thousand dollars to cut a tree down off of someone's roof. We had roofing companies come in and they were charging two thousand dollars to the elderly just to put a tarp on their roof!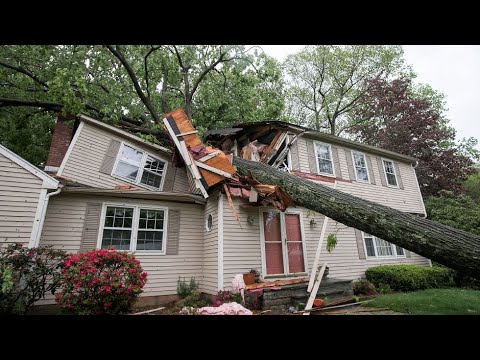 They took people's insurance money and FEMA money, started the job then never showed back up. IT HAPPENS! So please be careful.
Never, ever hire someone who shows up knocking on your door. Arborists who are qualified are going to be too busy to go around knocking on people's doors. Keep that in mind.
Also keep in mind that if you have an arborist that tells you that your tree needs topping, call another company.
---
Clean Up Storm Tree Damage Safely
If you are unsure on who to call, go through your yellow pages and find the Tree Service section for the ISA (international society of arboriculture). These are arborists who are certified, established, and local.
Many people think that just because a company is listed in the yellow pages or phone book it means that they are a reputable company that will do the job right. This is not necessarily true. All it means is that you can find them easier if they do a bad job.
Make sure to always ask for proof of their membership in the ISA organization and for proof of other things such as their certification and their workman's comp along with their insurance.
It doesn't hurt to ask them for references too. Companies who are really good at their job are proud of the work that they do and are qui8ck to give references.
If you have someone come to your door offering a "one-time-offer" or a "now-or-never" deal, tell them "No thanks" and close the door.
If you hire someone that you see using spikes to climb your tree that they are supposed to be trying to save, ask them to leave and you find someone else. A good arborist will never use spikes to climb a tree unless there is someone up there who is hurt, or if they are cutting the tree down.
---
CHECKING FOR WINTER STORM DAMAGE
At the time of this writing, more than two-thirds of the country has gone through and is still going through a massive winter storm. Even here in Louisiana, we have had ice on the ground for three days now and electricity, internet, and water has been in and out.
If Hurricane Laura had left us any trees we would have a huge mess on our hands right now. But other places will be facing a huge mess when this storm is over.
The first thing you will need to do is to check on all of the trees, shrubs, and plants on your property for damage.
The winds and temperatures along with heavy ice and snow have taken their toll on everyone's landscape.
The best time to actually do anything about the damage is right before spring when you know that the last of the winter weather is gone until the next winter season.
---
Clean Up Storm Tree Damage Safely
If you find any severe damage (trees knocked down, big branches on power lines, trees across the road or your driveway, or especially if you have a tree or big branches that have fallen on your roof. It's time to call in the experts to handle the job.
To help the experts, what you can do is clean up all of the branches that you can handle. Ones you can either break down into smaller pieces or ones that you can pick up and carry.
Get all of the smaller stuff out of their way. Of course, no matter how small, do not touch anything that is near an electrical line or near a downed power line.
---
SNOW DAMAGE
Places that have extremely heavy snowfalls can cause broken branches or cause the limbs to bend. do NOT try knocking the ice or snow off with a shovel You will only cause your tree more harm. Again, patience! Allow the snow and ice to melt first.
If there are just a couple of branches that seem damaged then you can prune these branches.
If the trunk of the tree has more than one-third of it damaged then you will need to call in a professional to remove the tree.
---
FREEZE INJURIES
If your tree has green foliage and winter hits early and the temps drop below freezing, your foliage will probably begin to wilt and fall off within the next week or two. The leaves may even turn black.
There is nothing that can be done about this. You will have to be patient and wait and see if the tree will sprout new buds and new foliage.
If you water the tree, it can help but be careful not to overwater it and do not fertilize it. This can make things worse.
Come springtime if there is no new growth then your tree will probably not survive.
---
PREVENTION
There are certain preventive measures you can take before a winter storm arrives in better care for your trees.
Do a check of all of your landscaping. All shrubs, plants, and trees. Here is a list of the things that you will need to look for.
Decaying branches
Trees that are leaning over
Hollow branches
Cracks in the tree trunk
Mushroom or fungus growth
Branches that hang over your roof
Limbs over or near power lines
What should you do about any of these issues?
Trim back limbs are too close to your home
Remove any decayed, damaged, or dead branches
For any trees that are leaning or any branches that are near electrical lines, you will need to call an expert.
---
AFTER THE STORM
Inspect your trees for damage
Check for branches or trees that are downed on or near power lines and call your electric company
DO NOT TOUCH THEM!
Remove any small broken branches
You will need to prune your smaller limbs to the closest big limb
For any job that you are unsure of if can safely handle, call a professional
---
CONCLUSION
Having to go through winter storms is not easy. There is so much to do beforehand and to worry about. Losing power, losing water, having to travel during the storm. Make sure that you also give attention to your landscaping before and after the storm.
Remember though, safety always has to come first. Do what you can safely do then leave the rest to the expert arborists.