DIY Building A Birdhouse Out Back. Looking for some kind of décor to add to your yard? Have you ever thought about adding a birdhouse?
That you build all on your own? These add such a charming effect to any yard.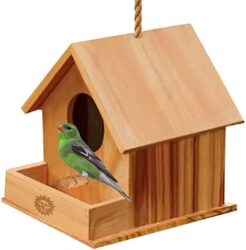 You can pretty much hang them anywhere you want but they are super cute when you hang them from a tree.
There is no limit to how many birdhouses you can have in your yard. Hang on from each tree if you want to.
If you need some ideas about the different kinds of "do-it-yourself" birdhouses that are available, check out some of the ones listed below.
The Log Cabin Canadian Made Birdhouse.
This birdhouse comes with signs for either the U.S.A. or Canada you can choose from. It's made of western red cedar from Canada. It comes with a non-toxic glue. There is an instruction manual to help you along.
Little birds will absolutely love this little log cabin birdhouse. The hole is the perfect size for the little birds in the neighborhood and it protects them since the larger predators can't get in it to get to them.
The floor can be removed for simple clean-up. It comes with twine for you to be able to hang it safely. The best place to hang birdhouses is either from a roof overhang or from a tree branch.
This little project is perfect for the entire family to get involved in building.
DIY American Barn Birdhouse.
This birdhouse has a quarter-inch opening. The hole can be drilled with a drill bit to a larger size to allow for bigger birds to enter.
Everything that you need to put together is included with the exception of the masking tape and the Phillips screwdriver.
This is a wonderful gift for any bird lover on your list. Vintage silo to go great with a vintage barn!
There is a video online to help to guide you through the instructions. The silo also comes with the treehouse barn.
Oojami Wooden Birdhouse.
This cute little birdhouse comes with twelve mini wood four-inch assorted birdhouses (wood is unfinished). It's made of one-quarter-inch and three – sixteenths-inch plywood and it measures four – inches tall and three-and-a-half inches wide. This is an awesome project for the kids to put together or even to do at camp on a rainy day.
Sunglow Birdhouse W/Porch.
This adorable little birdhouse also comes with a bird feeder.
And would make a beautiful addition to any garden or windowsill.
This birdhouse is designed mainly for eastern bluebirds.
But any small bird looking to set up a house.
Just needing shelter for the night from storms would love to rest in this birdhouse.
The little bird feeder can be hung but you have to drill the hole yourself.
It makes for a cute little perch for any small bird to enjoy and eat.
It also has two entryways.
A tiny hole on one side is for air ventilation.
And it has a precious little door on the opposite side to make clean-up easier.
If you want it to look real, decorate the doorway with leaves and petals.
Tip:
This birdhouse has to be completely sealed and painted before it can be put outdoors in the weather.
Stanley Jr – Do – Yourself Birdhouse.
As with all Stanley tools, the name alone tells you this is a great quality birdhouse.
Teach your kids the feeling of building something with their own hands.
The feeling of accomplishment that comes with the project being completely finished.
This cute little birdhouse is for ages three and up.
Included in this kit:
One wall hangar
One plastic part
Two hinges
Eighteen nails
Twenty – six screws
Six pre-cut wooden pieces
Dimensions:
Over six and a half inches high
Over seven and a half inches wide
Almost eight – inches deep
Requires assembly and easily wipes clean!
If none of these sounds like something you would want.
There are tons more to choose from.
My personal favorite would be the farmhouse with the silo.
Although any of these birdhouses would be a beautiful addition to any yard or garden.