Best Soil For Apple Trees. For apple trees, making sure that you have the right soil is extremely important.
Apple trees do better in slightly acidic soil with a pH level of 5.8 – 6.5.
There are so many different soils on the market to choose from.
That it's hard to know what is best for your apple trees.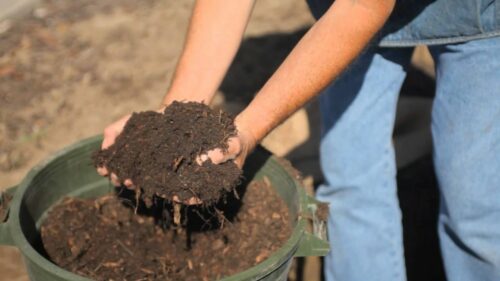 Below is a list of the best soils for apple trees with the pros and cons of each one. This will make getting the right soil for your apple tree just a little bit easier.
ESPOMA APPLE TREE POTTING SOIL MIX
This soil is rich in – tone which is what makes it compatible with most apple trees. It also works great for other vegetable and fruit trees.
The soil has peat moss in it, apple trees require soil that is able to hold a high water content and the peat moss in this soil is great for that. Since this soil has both compost and peat moss, it makes it even better for planting apple trees. Peat moss also keeps plant nutrients from being washed away when you water the tree.
[i2pc pros_icon="icon icon-thumbs-up" cons_icon="icon icon-thumbs-down" show_title="true" title="ESPOMA APPLE TREE POTTING SOIL MIX" show_button="true" pros_title="What We Like About It" cons_title="What We Dont Like About It" heading_pros_icon="icon icon-thumbs-s-up" heading_cons_icon="icon icon-thumbs-s-down" button_icon="icon icon-hand-o-right" link_text="Check For Price" link="https://amzn.to/3pJygm9″ ][i2pros]Fruit Flavor
Encourages root formation
Easy to use
Non-burning formula[/i2pros][i2cons]Weighs more[/i2cons][/i2pc]
BURPEE ORGANIC PREMIUM POTTING SOIL FOR APPLE TREES
If you don't want anything but organic soil for your trees then this is the potting soil you're looking for.
This soil has humus in it which adds nutrients to the soil that helps the apple tree grow from both seeds and seedlings.
The calcium in the soil encourages elongation and apple fruit cells which results in larger apple trees. Potassium is also included in this organic soil which helps your apple tree to have strong branches to support more weight from the apples.
Soil that has potassium in it, when you are growing apple trees from the dwarf trees, it encourages apple fruit flavor. This soil also has a small amount of phosphorus to keep spotting from occurring on the fruits and leaves.
PROS
Humus content
Environmentally friendly
Organic
Easy to use
CONS
Doesn't hold water well
BLACK GOLD POTTING SOIL FOR APPLE TREES IN POTS
This soil has a large amount of micro and macronutrients for plants. It also includes slow-release ingredients which help to keep the tree roots away from scorching effects.
The Black Gold Potting Soil has a high phosphorus nutrient level that promotes the formation of strong roots. It has a perlite content level that betters soil drainage and helps the overall soil structure and creates airbags.
Its organic matter helps with water-holding ability. Its presence acts as a soil microbes' source that allows nutrients to be accessible by the tree roots.
PROS
Non-burning formula
Improves soil structure
Organic rich matter
Good for outdoor and indoor plants
CONS
Heavy
High priced
MINUTE SOIL – COMPRESSED COCO COIR FIBER GROW MEDIUM
The main ingredients of this soil are compost and humus. Both help to withhold water.
Both mature and young apple trees can feed on this fertilizer without having to have a second fertilizer thanks to the slow – release of it.
With a high amount of phosphorus and calcium, it encourages strong roots and branches and better-flavored apples.
The magnesium mixed with potassium means disease-free and healthy fruits and a bigger quantity of fruits.
PROS
Pest free
Magnesium content
Increases Fruit supply
Disease-free
CONS
Has slow-release fertilizer
ESPOMA SOIL FOR APPLE TREES IN FABRIC POTS CONDITIONER
With all of the soils on our list, Espoma is at the top for planting apple trees in a container because it has the perfect amount of perlite.
The gypsum in this soil, when growing the trees on clay soil, improves the drainage.
This soil is also high in calcium amount.
Another plus is the amount of phosphorus and calcium to start the rooting if you plant seeds from store-purchased apples.
PROS
Inexpensive price
Environmentally friendly
Soilless culture
Give more flavor to the fruit
CONS
Drainage modification
DR. EARTH 807 HOMEGROWN POTTING SOIL
This soil comes with a wrapping bag to make sure it's kept away from moisture. The pumice in this soil helps with the soil nutrients to mature or younglings' tree roots. The wrapping bag has another plus to it, it stores the leftover soil after a tree planting session.
A major ingredient of a slow-release fertilizer is phosphorus. It makes sure that the young tree roots are root-rot-free.
Humus and peat moss are also ingredients of this soil which promotes high water capacity.
PROS
Non-burning formula
Holds water
Good with all fruit trees
Improves soil drainage
CONS
Weighs almost 50 pounds
FOX FARM OCEAN FOREST TOPSOIL FOR APPLE TREES
There is high calcium in this soil, and it is the main reason that this soil is on the list.
Apple trees grow easily from seeds with this brand of soil because of their high – water capacity.
It's free from pest eggs and disease.
This Fox Farm soil is clay soil with high organic matter content. So, when you plant your trees in clay soil, make sure to add this Fox Farm soil to help with air circulation and water drainage.
PROS
Great drainage
Organic
Pest free
Free of disease
CONS
There are none
WHAT TO CONSIDER WHEN BUYING SOIL FOR APPLE TREES
There are certain things you should look for when buying soil to grow apple trees.
PH LEVELS
You need to make sure that the soil you choose has a light acidic level but not too much because too much acidity can cause scorching of your apple tree and can cause root rot.
Buying soil with too low acidity can stunt the growth and roots of your tree.
TEXTURE
The soil needs to be of a fine texture because the seedlings have roots that are weak and rough-textured soil can break the roots. Fine-textured soil promotes air circulation and good drainage.
Buy whichever of these soils is right for you and your apple trees and get ready for some of the largest, most delicious apples.